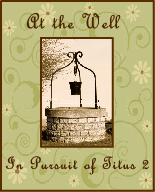 To all my peeps out there, I am so excited to share with you an opportunity the Lord has given me. Chelsey, the founder of At the Well, asked me a few weeks ago to join the writing team for At the Well...In Pursuit of Titus 2. As I told her, I am truly humbled by this opportunity to serve the Lord and you alongside so many women who love Him with all their hearts.
Some of you may already be familiar with At the Well, but I can assure you that with the launch of the new site Monday, February 2, you are in for a treat! At the Well you will find daily devotionals, practical tips, and lots of encouraging words from the Word that will help you to live out the mandate found in Titus 2.
Today, I encourage you to hop on over and take a look at what's going on. Keep in mind things are still under construction, but there are some exciting things that YOU, my friend, can be a part of today. So what are you waiting for? Click HERE and go have yourself a look!! You won't be disappointed!!!
I love you, my peeps! Have a blessed Jesus filled day!!!! God rocks!!!