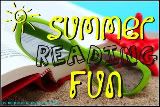 I don't get to read as many books during the school year as I'd like due to the fact that I'm homeschooling my two oldest kiddos and usually teaching Bible study classes. So... I was thinking this summer would be a great time to read a few of those books that I've wanted to read for a while.
How about you? Up for a few good reads this summer? Here's what I'm thinking. I've gathered together several books that I'm going to read over the next several weeks. On Thursday's I will post a review and/or discussion of what I've been reading. You are more than welcome to join me by reading the same books I'm reading, or you can compile of book list of your own and join me on Thursdays by sharing with the rest of us thoughts about your book.
My book list so far consists of the following books:
A Marriage without Regrets
by Kay Arthur

The Hole in Our Gospel

by Richard Stearns
A Jewel in His Crown
by Priscilla Shirer

Making Brothers and Sisters Best Friends
by Sarah Stephen and Grace Mally
Don't Make Me Count to Three!
by Ginger Plowman

Redeeming Love
by Francine Rivers
The Mentoring Mom
by Jackie Kendall
3:16 Numbers of Hope
by Max Lucado


You can get any of these book from christianbook.com or your local christian book store.
If you are interested in joining me for some summer reading fun, please leave a comment on this post or send me an email. Let me know if you would like to read any of the books off of my list or if you are going to compile a list of your own; this will determine what kind of discussion we can have. Feel free to copy and paste the "Summer Reading Fun" button to your blog. I hope you will all join me for some reading and relaxation. Happy reading!!
I am currently reading A Marriage Without Regrets and will be posting on it beginning this Thursday, June 25th.